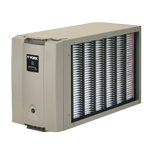 Air cleaners effectively remove bacteria, pollen, animal dander and other pollutants as small as 0.01 microns. That's 18,000 times smaller than the head of a pin. The higher the Minimum Efficiency Reporting Value (MERV), the more efficiently the cleaner removes particles. We offer air cleaners that range from MERV 10 to MERV 15 to meet your needs. For those families that have severe allergies, we also offer Whole House High Efficiency Particulate Arresting (HEPA) filtration systems.
Air Purification Product Offering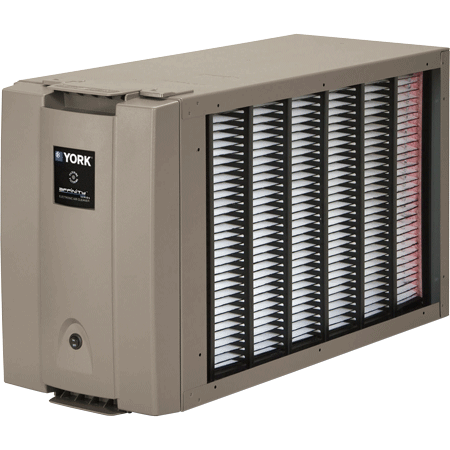 Affinity™ Series Electronic Air Cleaner
View Brochure
Model Family: S1-HEAC3000T
Filter efficiency: Removes allergens and mold particles by 99%.
Germicidal rate: Removes indoor virus-sized particles by 80%.
Manufacturer's Stated Benefits:
Ideal for homeowners sensitive to airborne virus, bacteria or mold particles.
Reduces airborne dust by 94%.
Works with your central air ductwork for whole home comfort.
Save energy with efficiency rating equivalent to MERV 16.
Get cleaner air every time your comfort system runs.
Low air flow resistance uses less fan energy.
Change filter just once a year.
No moving parts in filter media.
5-year Parts Limited Warranty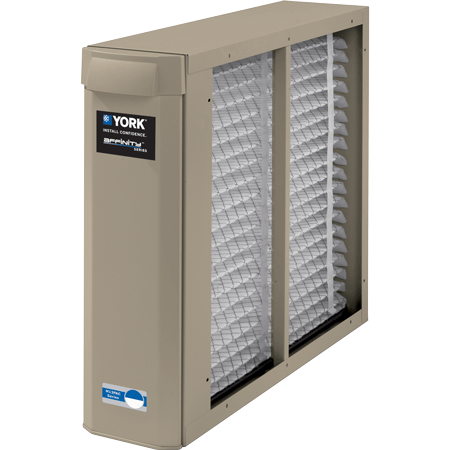 Affinity™ Series Media Air Cleaner
View Brochure
Model Family: S1-TM**PAC*****
Filter efficiency: Up to MERV 13
Germicidal rate: Captures up to 98% of particles down to one micron.
Manufacturer's Stated Benefits:
Traps bacteria and spores, while providing for removal of virus-sized particles.
Works with your central air ductwork for whole home comfort.
Get cleaner air every time your comfort system runs.
Low air flow resistance uses less fan energy.
Professional grade construction withstands daily use.
Change filter just once every one or two years.
No moving parts in filter media.
5-year Parts Limited Warranty